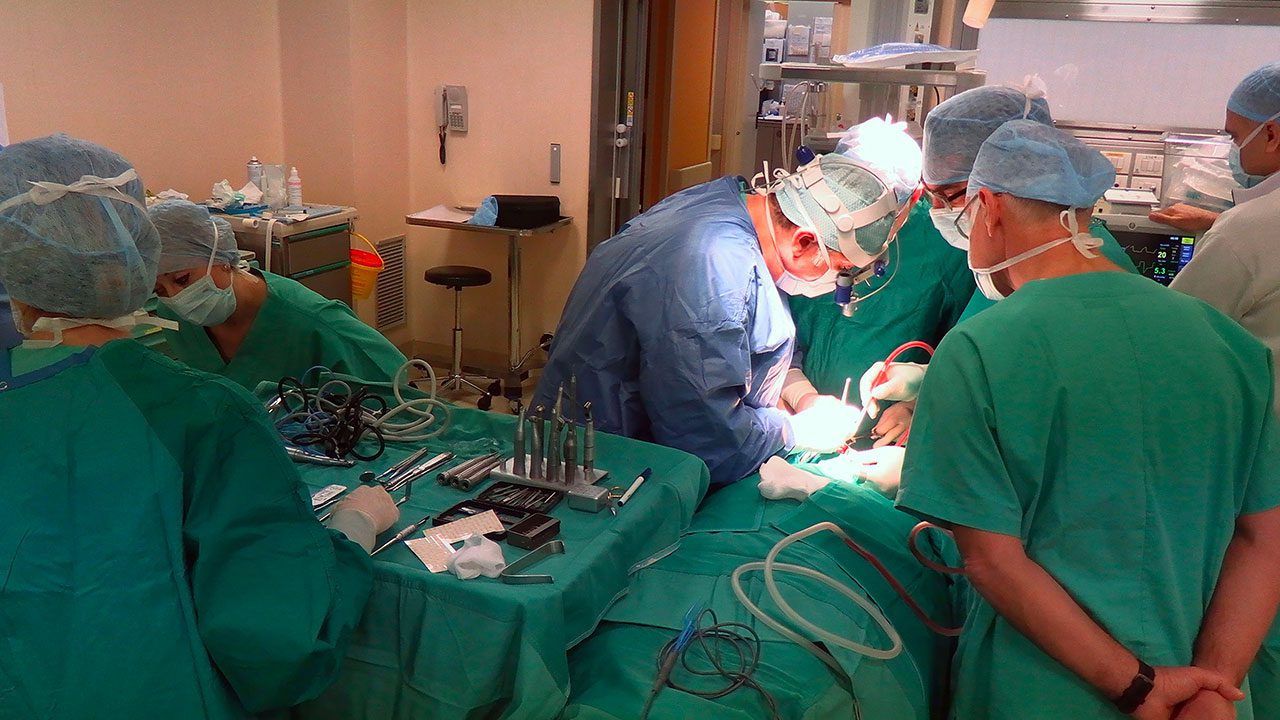 Attivo dal 1990 è sempre stato all'avanguardia offrendo ai propri pazienti le più recenti applicazioni tecnologiche.  Tra i primi studi italiani a offrire trattamenti implantari in forma routinaria dalla sostituzione del dente singolo ai trattamenti complessi in pazienti edentuli con mascellari atrofici.
Tra i primi ad offrire interventi di chirurgia pre-implantare con innesti ossei e sinusali in sedazione cosciente e in anestesia generale. Ancora all'avanguardia nell'utilizzo della chirurgia implantare computer-assistita in tutte le sue applicazioni cliniche che comprendono le tecniche minimamente invasive senza lembo, quelle che utilizzano impianti inclinati evitando gli innesti ossei e quelle che consentono la protesizzazione immediata.
La chirurgia implantare computer assistita consente di simulare ogni ipotesi terapeutica al computer scegliendo quella più indicata al singolo caso clinico, il piano di trattamento computerizzato viene trasferito al paziente utilizzando delle guide chirurgiche ottenute con la prototipazione stereolitografica che è una tecnologia che consente di ottenere un oggetto tridimensionale partendo da un file digitale. I modelli anatomici dei mascellari realizzati con la stereolitografia permettono di valutare ogni dettaglio dell'anatomia ed effettuare trattamenti implantari in grande sicurezza. Oggi ancora all'avanguardia per il trattamento implantare delle avanzate atrofie mascellari con implantologia zigomatica, realizzata con tecnica computer assistita, e in alternativa con gli impianti sottoperiostali AMSJI.
Oltre alla terapia implanto-protesica lo studio offre un percorso terapeutico completo: prima visita,  igiene profilassi, conservativa, endodonzia, protesi, ortodonzia avvalendosi di collaboratori interni ed esterni allo studio esperti nelle singole discipline. Lo studio si avvale anche di consulenti medici specialisti nelle discipline che trovano applicazione nel distretto maxillo-facciale.
Lo studio è dotato delle più moderne attrezzature per il trattamento e la sicurezza dei pazienti. Presso strutture ospedaliere offriamo trattamenti in regime di day hospital o di ricovero ospedaliero in sedazione o in anestesia generale.
Sono organizzati incontri di formazione, study clubs e varie tipologie di corsi per medici in chirurgia implantare e implantologia computer assistita
Sono organizzati per i medici incontri di formazione in chirurgia orale e impiantare e varie tipologie di corsi e live surgery.
---
Surgery and Clinical Activity.
Starting up in 1990, always avant-garde in offering patients the most recent  technological innovations. Amongst the very first Italian surgeries to offer implant surgery for a routine substitution of a single tooth, to the complex treatment of a patient with an atrophic jaw.
Amongst the first to offer treatment of pre-implant surgery with bone grafting and maxillary sinus augmentation, under conscious endovenous sedation, or with a general anaesthesia. Today even more in the forefront in the use of Computer Guided Implantology in all its clinical applications, from the flapless technique, minimally invasive, those using tilted implants and avoiding bone grafting, to those needing immediate prosthesization
Computer Guided Implantology makes it possible to simulate every therapeutic hypothesis on the computer, choosing the one most suitable in each single case, the computerized plan of treatment carried out on the patient by means of a surgical guide through the stereolithographic prototyping. This technology promotes the setting up of three dimentional objects from a CT scan (dicom data). With the aid of stereolithography, the anatomic modelling of a jaw evidences every detail of anatomy, and leads a way through to successful implant treatment. Still at forefront of the treatment of advanced maxillary atrophies using zygomatic implants, with computer guided approach or alternatively with the subperiosteal implant AMSJI.
Besides the implantology the surgery offers complete therapeutical coverage; diagnosis, dental hygiene, dental care, endodontics, prosthesis, orthodontic, working in co-operation with internal and external collaborators, experts in specific fields of dentistry and medicine.
The surgery boasts the most up to date appliances for patient treatment and  care. At hospitals we offer treatments in day hospital or hospitalization under sedation or general anesthesia.